Originally published at Dispensing Freedom on June 24, 2021.
Chief Del Riley, Constitutional negotiator and former National Indian Brotherhood President, tours Medicine Wheel in Alderville First Nation and sits down for a conversation about cannabis and Indigenous sovereignty with Rob Stevenson.
ALDERVILLE FIRST NATION – On March 4th, 2021, Chief Del Riley, the former President of the National Indian Brotherhood, and a co-author and negotiator of Sections 25 and 35 of the Canadian Constitution, visited Alderville First Nation. Chief Riley was there to tour Medicine Wheel Natural Healing – the first dispensary to open in Alderville – and to see first hand the state of the art cannabis testing and extraction facilities of Red Feather Laboratories.
Chief Riley, a 71 year old Hereditary Chief of the Chippewa Crane Clan, has spent his entire life fighting for the rights of Indigenous people. In recent years, Chief Riley has become involved in supporting the Indigenous right to cannabis, and has worked with the North Shore Anishinabek Cannabis Association to support store owners asserting their Aboriginal right to use and provide medicinal cannabis on their lands. Since 2015, over 250 cannabis dispensaries have opened up on a sovereign basis on Indigenous territories across Canada. They have created a huge economic boom for on-reserve populations and a real economic challenge to Canada's system of Licensed Producers.
The growth and evolution of cannabis in Alderville
Chief Riley was met in Alderville by Robert Stevenson, the owner and founder of Medicine Wheel and Red Feather Laboratories. Stevenson showed off Medicine Wheel's storefront, and spoke about the way he has respected his community in the operation of his business. As he explained to Chief Riley, "I wanted to do this in a way that was good, respectful, professional, and that portrayed our culture well."
Stevenson added, "I've been trying to use our store as a way to educate people about our culture and get people into the community. It was tough at first because of the stigma of cannabis – Alderville started becoming known as the "Green Mile," and some people were uncomfortable with that. But I think there's an opportunity…. Yes, Alderville might be a cannabis community, but look at what it's doing for the people, look at the changes."
Stevenson has certainly succeeded in his efforts. Medicine Wheel now has a base of over 60,000 registered clients, and Alderville is home to a thriving cannabis industry with nearly 20 different dispensaries lining its main road. Cannabis is the community's largest economic driver, and the local economy and Alderville's relationship to its neighbours has been reshaped as well. As a trail-maker in this industry, Stevenson has spoken at Indigenous gatherings on cannabis across Canada, and Medicine Wheel has become a living example of how medicinal cannabis facilities can be done right.
After a brief stint at the Medicine Wheel, Stevenson and Chief Riley toured Red Feather Laboratories to see how cannabis can be safely extracted and tested for safety and potency. Stevenson has used the profits of his storefront dispensary to build a state of the art extraction facility and laboratory that not only meets, but exceeds the standards expected by Canada of its Licensed Producers. In building the world's largest and most advanced Anishinaabe-owned cannabis facility, Stevenson states, "my goal is to show that we as Indigenous people can safely and securely operate all aspects of the cannabis industry without government interference or control."
Cannabis as a constitutionally protected Aboriginal right
After touring the laboratory facilities, Chief Riley and Stevenson sat down for a wide ranging conversation about the Indigenous right to cannabis, and the political obstacles facing Indigenous entrepreneurs.
Stevenson started the discussion off by asking Chief Riley if he viewed cannabis as a constitutionally protected "Aborginal Right." Chief Riley replied, "It sure is. And even if it wasn't, the authority to regulate it lies with your traditional people."
Indigenous people never gave up their inherent rights to make medicine from or otherwise benefit from the cannabis plant on their own lands, and the nation-to-nation treaties made with the Crown – long before the existence of Canada – reflect this. As Chief Riley explains, "our position on our rights is that they were totally intact as of 1814." In Chief Riley's view, Canadian Confederation and laws and policies such as the Indian Act remain racist and colonial attempts to control and oppress indigenous people, but they haven't taken away Indigenous rights.
Chief Riley proposes using Sections 25 and 35 of the Constitution as a shield to stop any instrument of the Crown – Federal, Provincial, Municipal, or Band Council – from violating the treaties which were the foundation for the creation of Canada. "Indians" have Treaty and Aboriginal Rights, but Band Councils don't – because they are administrative bodies of the Federal Government responsible for providing programs and services to Indians. Riley argues that cannabis dispensary owners can use their Constitutionally protected rights to protect themselves from over-reaching Band Councils. But for long term success, Indigenous people need to get out from under the racist Indian Act, and put cannabis regulations and the Indigenous economy more generally, "under the authority of your traditional people. That will stop any land surrenders too."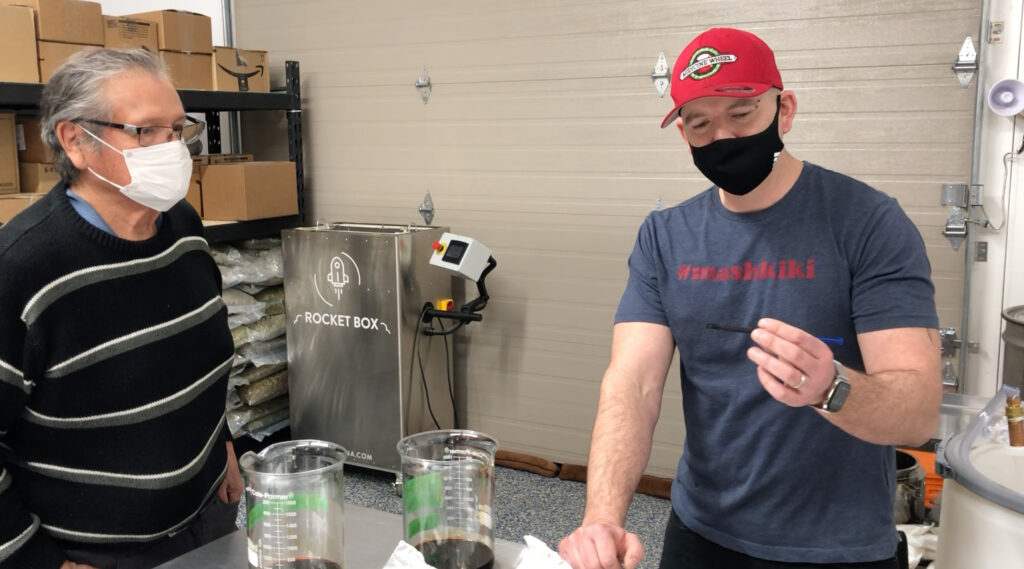 Looking to the future
Although the cannabis industry has made major strides in increasing the self-sufficiency of Indigenous economies, that doesn't mean that it's all clear sailing from here on in. As Stevenson puts it, "I'm seeing what they're doing, it's very smart. They're kind of leaving First Nations alone, but their plan is to take us out through attrition, through the OCS government stores. I'm already noticing at my store the increased pressure because [OCS stores] are dropping their prices. Most First Nations are not near an urban centre. We need a way to be able to draw people out to our communities."
Given these factors, Stevenson sees the government model as a dead end. "Why are people going to come out to our reserve, when they can go to an urban centre that's closer, and pay the exact same price for the exact same product. We lose our advantage that way…. And they don't believe in it as a medicine, you can't even mention it as a medicine."
This means that Stevenson thinks wider co-operation and co-ordination between the Indigenous cannabis industry is what's required. As he puts it, "The competition isn't my neighbours in my own community that are running the dispensaries. No, our competition is the government stores that are opening up. Their platform, the way they've designed it, is to actually take out the black market. And they're viewing Indigenous dispensaries as black market. We're the red market, we're not black market. I don't support the black market products, I don't support criminal organizations. I do support our own Indigenous people in creating an economy based off a plant that grows naturally."
To get there, Stevenson argues, Indigenous people can start simply – by growing cannabis themselves in their basements and garages. "I need Indigenous flower. Set up a little grow in your basement, pass the testing requirements, and I and other dispensaries will buy it."
Indigenous freedom requires an economic base to support the people. And for that, Stevenson believes, "cannabis and hemp are going to be the tools that are going to drive a lot of change." Chief Riley concurred: "I believe exactly the same – that's what First Nations have to do."
Chief Riley left the Red Feather Facilities with a special gift pack of medicinal cannabis products including Medicine Wheel's famous "Mukwa" line of tinctures, some pre-rolls, and some Rick Simpson Oil. Chief Riley, who has had a life-long appreciation for cannabis, and who has successfully used it to fight cancer, was very thankful and promised he would keep in touch.
For more information visit the Medicine Wheel and Red Feather Laboratories websites, and keep your eyes out for Del Riley's forthcoming autobiography: The Last President.