The founding meeting of the Mi'kmaq Rights Association will be held from 6pm to 9pm on Wednesday, October 12th, 2022 at the top floor of High Grade at 171 Abenaki Rd. in Millbrook First Nation. For more info, call Chris Googoo at 902-890-1823.
In order to attend, please fill out the following form.
If the embed does not work, try the following link.
Other events planned during the week include:
9AM OCT 11 2022 – RALLY IN SUPPORT OF CHRIS GOOGOO AT DARTMOUTH COURTHOUSE 277 PLEASANT ST. Entrepreneur and Millbrook First Nations Councillor Chris Googoo is going to court on Oct 11, 2022 to fight for the inherent sovereign rights of all Mi'kmaq people. Chris is bringing a constitutional challenge to the court and is standing on his Aboriginal and Treaty rights to provide cannabis as a medicine. Join Chris and his supporters for a rally and speeches from Chief Del Riley and others.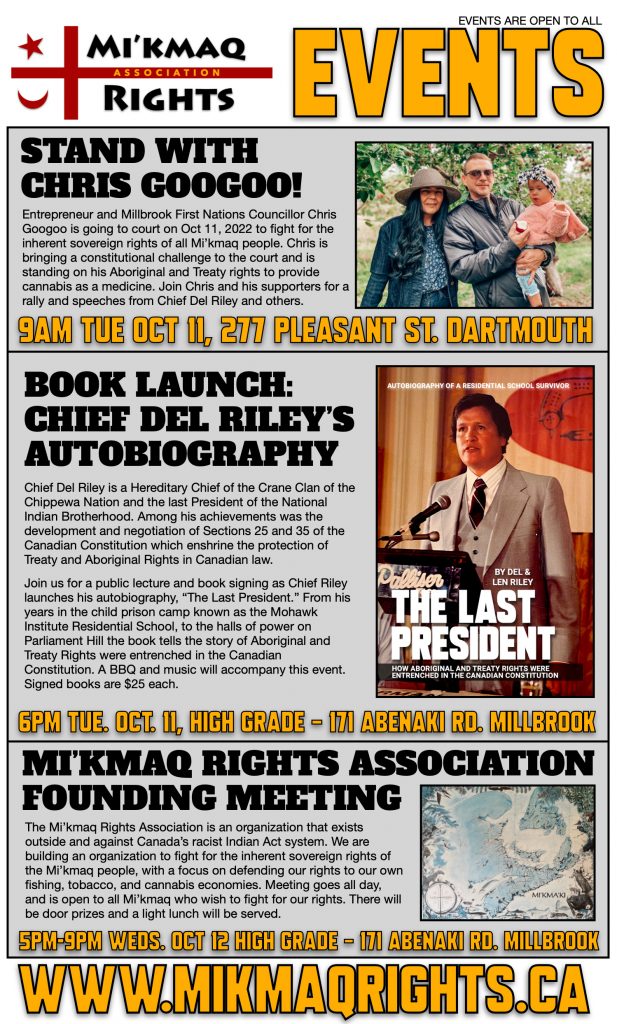 6PM OCT 12 BOOK LAUNCH WITH CHIEF DEL RILEY AT HIGH GRADE 171 ABENAKI RD. MILLBROOK FN. Chief Del Riley is a Hereditary Chief of the Crane Clan of the Chippewa Nation and the last President of the National Indian Brotherhood. Among his achievements was the development and negotiation of Sections 25 and 35 of the Canadian Constitution which enshrine the protection of Treaty and Aboriginal Rights in Canadian law. Join us for a public lecture and book signing as Chief Riley launches his autobiography, "The Last President." From his years in the child prison camp known as the Mohawk Institute Residential School, to the halls of power on Parliament Hill the book tells the story of Aboriginal and Treaty Rights were entrenched in the Canadian Constitution. A BBQ and music will accompany this event. Signed books are $25 each.