Share great content, win awesome prizes!
From April 17th to April 22nd, every Micmac Rights Association post you like, share, or comment on will get you entered into a draw to win cash and store prizes from participating Micmac retailers. Everyone over 18 can participate and share as much as you want. Winners will be chosen by random number generator and announced on the evening of April 23rd, 2023. Prizes will be received through e-transfer or cash pickup.
Visit https://linktr.ee/micmacrights to view our social media links and to start sharing!
PRIZES INCLUDE: High Times Station – $500, High Grade Smokeshop – $500, Eagle Island Lodge – $300, Sully's Trading post – $200, Belly Busters Pizza and Donair – $200, Mimigej Trading –  $150, Bear Buds – $150, L'nuk Lounge $100, Ugpi'ganjig Truck House – $100. 
Contact micmacrights@gmail.com for more information.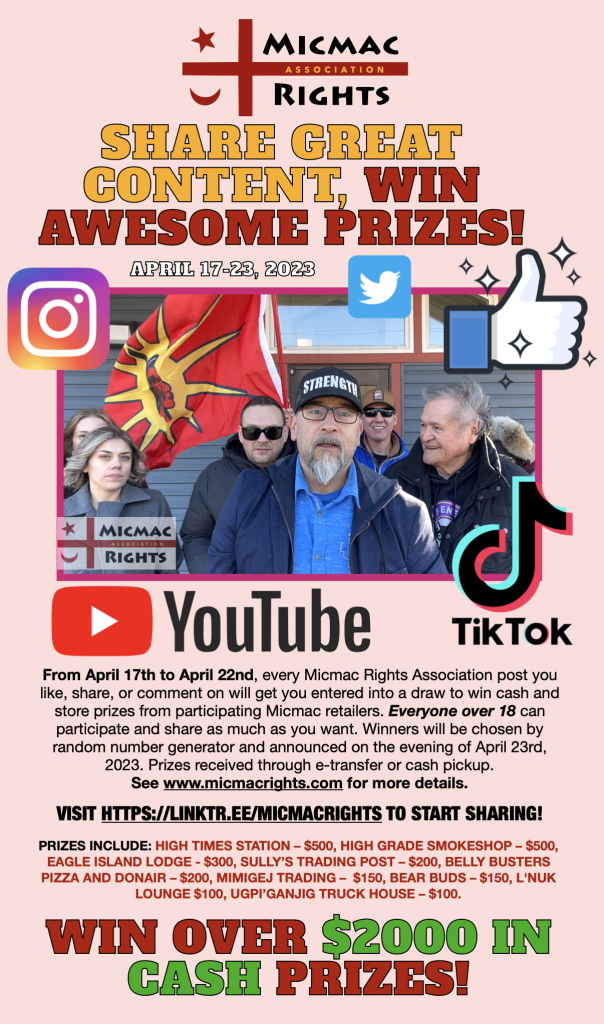 Contest Details
Prizes are assigned to each social media channel. Reactions (the likes, comments, and shares) on each channel are tracked to give a total number for each channel at the end of the campaign. When we do the draw on Sunday April 23rd 2023, we will run a random number generator on each channel to determine the winner.
For example, if there are 500 entries for the YouTube Channel we run the random number generator for a number between 1-500, we get that number, then we count down from the first like/share and get to the person who won.
More information will be posted here shortly about the prizes for each section.